Water is critical to the painting process of Colorcote® prepainted metal roofing. Without it, we stop.
After a sustained effort and numerous improvements, we have reduced our water consumption by 71% since 2015.
Surface preparation is vital to a good finish – get the cleaning wrong and it doesn't matter how good the other processes are, the result will be failure. So, before we apply any paint, we must ensure that the metal surface is free from any contaminants or loose metal particles from the galvanising process. We do this by passing the metal through two cleaning tanks, where an alkali-water solution is applied by jet spray to both sides simultaneously. The metal then passes through a freshwater rinse in the final tank and is air dried before painting can occur.
From 2016 to 2019, we upgraded our systems so that our water consumption on both the cleaning and the cooling processes is reduced as much as possible.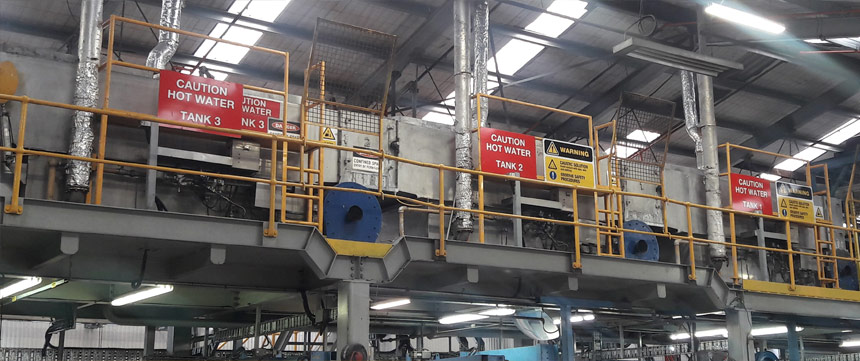 During the 2016 Christmas / New Year shut down, we installed a new efficient cooling tower, replacing 2 older ones. It was a good opportunity to improve our entire cooling system. Previous towers were located inside of the building next to the primer oven. It was decided to change the location of it in order to increase the efficiency of the cooling process, and free up factory space. The automation process was also updated in order to have a balanced enclosed system, and other mechanical modifications were included in the design to reduce the water consumption.
This year we installed a pH control unit, to automatically dose the waste that we do put back into the wastewater system. While this does nothing to help reduce the amount that we return, it does control any natural fluctuations in pH that may be the result of the normal variations of activity in our operations. We weren't required to do this, but we felt it was the right thing to do to ensure the quality of the water going back into the system was as good as we could get it.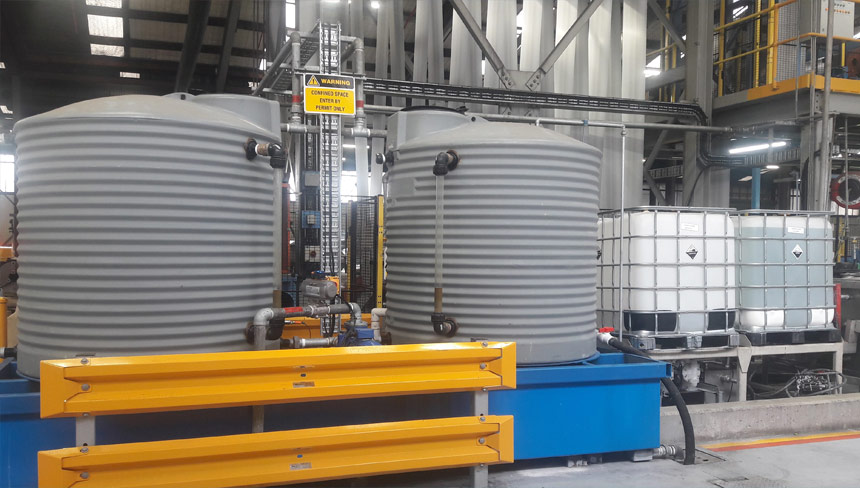 It's the people that are making the difference
While engineered solutions have clearly resulted in some important step-changes in performance, what has also been obvious has been the behaviour change that the team at Pacific Coilcoaters has undergone on this journey. By raising the awareness of water as an important resource, adding a value to it and by regularly communicating progress, a culture of improvement has developed. This has been especially important in the months after a new piece of hardware has been installed, where constant vigilance and adjustment ensures we deliver to expectation. Simply putting in new kit doesn't solve the problem on its own. We are rightly proud of the efforts and the results we as a team are achieving. This work dovetails directly into the Environmental Product Declaration we published in April 2019, which details amongst other things, our water footprint. We have also been recently audited by the Sustainable Steel Council of New Zealand and are an accredited member.
What are we doing right now?
When Auckland entered Level-1 water restrictions, we acted immediately by:
• reducing the rinse cycle in our new water tower down to every 6 hours, from every 3 hours. In the cooler weather we believe we can operate in this setting.
• bringing forward a project that replaces a water-cooled jacket on our main hydraulic unit with an air-cooled alternative. While this was only a small user of water the water was going straight to waste.
These are both easy changes that we can implement immediately that will have a positive impact.
Future projects
While we are naturally reaching a limit in terms of optimisation of our process, there are still some opportunities that remain. Additionally, some of you may be surprised we haven't done anything like rainwater harvesting yet. Our product is made into roof and gutter products after all! Rest assured, it was one of the first projects we scoped out back in 2015. The main challenge was one of capacity. We operate on a space constrained site, but we do have the ability to install a reasonably significant rainwater tank system. However, when compared to usage in 2015, it represented little more than a 6-hour buffer-not much more than half a shift, assuming it was full. Unless we could theoretically cover a full 12-hour shift there was little practical merit in proceeding. We believed that a better use of capital was to employ efficiency initiatives that reduce our demand for water.