What do roofs and horse floats have in common? Their uses might be vastly different, but both are expected to last a lifetime while looking good in New Zealand's harsh weather conditions. It just makes sense to use the same material for both.
Fieldline has been in the horse float business for over 40 years, and some of their original models are still seen around New Zealand, proof of their quality and durability.
That quality is evident in every step of production. The frame and chassis are welded together at Fieldline's Penrose factory. They then send the framework for "hot dip galvanizing" where the whole thing is galvanized in one piece, inside and out, to add strength and eliminate rust forming that could shorten the lifespan of the structure of the float.
The floor is made of 50mm treated NZ timber bolted to the frame with a 12mm anti-shock rubber mat sealed to it. Unlike plywood, it will not rot or flex and provides solid flooring for your horse to have a smoother, more comfortable ride.
Then comes the cladding, and for that, Fieldline prefers ColorCote. When asked about the benefits of ColorCote, Kimm Wray, owner of Fieldline, says as a company, they are quick and easy to work with and are a good fit with Fieldline's commitment to using NZ-made materials. But one of the biggest benefits is the colour range available.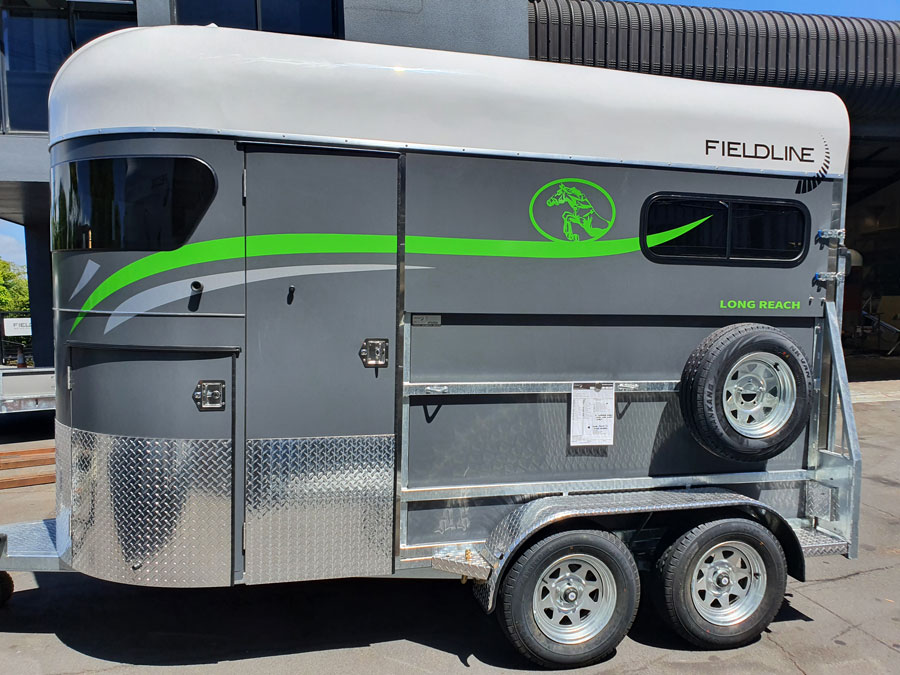 Horses are a passion and quite often, a very expensive obsession. When you have a horse worth thousands of bucks (pardon the pun), you want a float that looks the part. Kimm says colour is becoming more and more of a drawcard these days, adding "It's all about the looks." The problem with painted trailers is that they look great for 2-3 years but then the paint can start to flake off and they can look old quite quickly. ColorCote's baked-on paint finish eliminates that problem – no more peeling paint. With ColorCote's range of about 40 colours and their technology designed to suit any environment, Fieldline horse floats maintain their good looks for years and years.
Auckland horse owner Monique Redman reckons her horse Rocky is fussy as hell about what he'll travel in, but has no hesitation about walking straight up the ramp of her ColorCote-clad float. "He obviously feels safe in there, it's NZ-made with quality NZ materials, not at all flimsy – and his safety is what matters to me." And it doesn't hurt to look great!
Whether you're after a flash float in stylish Threadbow White to match your horse, or Greyfriars to complement your truck, you can't go past Fieldline for a New Zealand made, quality float with a choice of 40 ColorCote colours.