ZinaCore durability and value: ZinaCore (ZR8 ZRX), is durable, affordable long run steel roofing and perfect for inland areas where conditions are mild to moderate.
The best value aluminium and zinc coated steel roof that's right for most sites
Suitable for moderate climatic conditions, ZinaCore has a hot-dipped aluminium/zinc alloy coating over a steel substrate. It has a waterborne acrylic or polyester top coat, that uses the latest infrared reflective pigments, baked on a polyester primer, giving an extremely durable paint system that resists UV damage and provides excellent gloss and colour retention.
If your site matches the climatic conditions and you want roofing and cladding that will retain its good looks and protect for many years at a very affordable price, this could be the right ColorCote product for your project.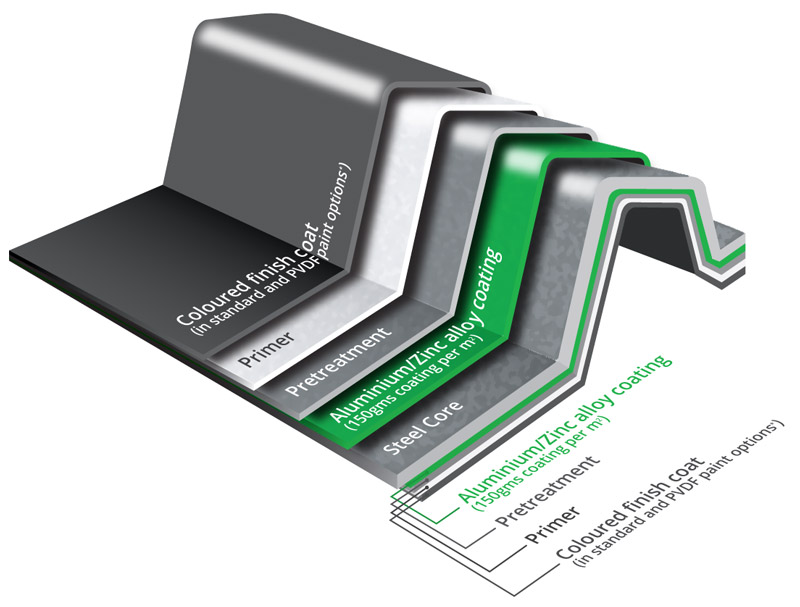 Raise your profile, not your costs
Few if any roofing and cladding products can match the design flexibility, long lasting durability and low cost of ZinaCore. And because it is only a fraction of the weight of concrete, it's not only safer in the event of an earthquake, but labour, infrastructure and material costs of installation are much lower too.
Industrial strength
If you are building in an environment where corrosive chemicals may be present, ZinaCore also has the option of a 70% PVDF top coat under our ZinaCore X sub-brand. Our 'X' paint system provides added protection against chemicals in industrial environments such as sites near airports, dairy factories or petrol stations as well as those in areas with geothermal activity.
X Paint is only available in a restricted colour range and availability may be subject to longer than our standard leadtimes. Please consult with your ColorCote distributor or contact us directly
Colour choice
ZinaCore is available in our extensive range of over 40 colours.
For full details download or request a hard copy of our Colour Brochure.
It's complicated
This website is primarily to help you choose the right roof. When you or your team of professionals want all the technical details of ZinaCore like the coating weight of the zinc/aluminium alloy or paint gloss levels, simply download our Technical Brochure or we'll post you one.