AlumiGard for the harshest conditions: AlumiGard (AR8 ARX) is marine-grade aluminium long run roofing, so it doesn't rust, unlike an iron roof. This makes it the best choice of roofing material for very severe marine environments, and in places close to geothermal areas.
New Zealand's premium metal roofing product, designed to withstand the harshest conditions
Suitable for use in 'very severe' marine environments, right up to the waterline, as well as chemical or acidic exposure in harsh industrial or geothermal areas. Aluminium doesn't rust. Under AlumiGard's durable baked-on paint system is the same marine grade aluminium alloy boats are made from.
It has an acrylic or polyester top coat baked on a polyester primer, giving an extremely durable paint system that resists UV damage and provides excellent gloss and colour retention.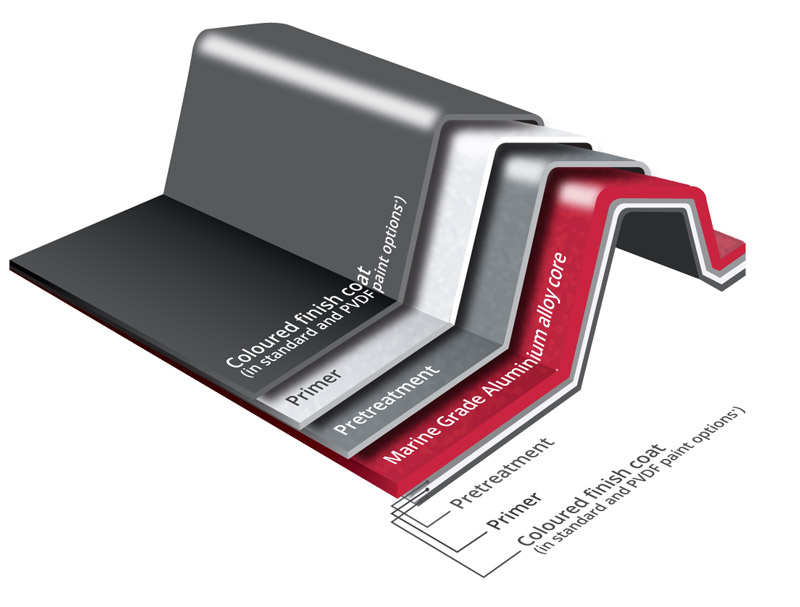 It's used for boat building, too
If you needed more convincing that AlumiGard is the only product you should insist on if you're in an exposed or coastal site, it's also a fact that the boat building industry use the same marine grade substrate we do.
Industrial strength
AlumiGard also has the option of a 70% PVDF top coat, under our AlumiGard X sub-brand, for when you need greater paint protection due to corrosive chemicals in the atmosphere. AlumiGard X will remain corrosion free and retain its gloss & colour for decades, even in geothermal locations and environments where there are both very severe marine and corrosive chemicals present, such as the Wellington airport. As a roofing and/or cladding solution for your commercial building in emission-laden environments, AlumiGard X will enhance and protect your investment for years.
X Paint is only available in a restricted colour range and availability may be subject to longer than our standard leadtimes. Please consult with your ColorCote distributor or contact us directly
Colour choice
AlumiGard is available in over 40 colours, so there's no need to compromise on the colour that you want in order to get the durability benefit of Aluminum.
For full details download or request a hard copy of our Colour Brochure.
Stocked colours for AlumiGard are Ironsand, Grey Friars, Black, Gull Grey, Sandstone Grey & Titania and are available in quantities of 50-400LM. Any other colours for AlumiGard from our standard colour range are subject to a 400LM minimum order quantity
It's complicated
This website is primarily to help you choose the right roof. When you or your team of professionals want all the technical details of AlumiGard like design, engineering and installation requirements simply download our brochure or we'll post you one.