The right roof
for your location
Introducing our 3-tier product range
Roofing and cladding are the largest, most obvious features of your home so they need to be durable enough to look great over the long term, no matter how demanding the environment is. That is why we developed our three-tier range of pre-painted metal roofing and cladding products. All use the latest coating technology, with the option of two paint systems, so you can find the optimal product to suit your building environment, from moderate inland to the harshest coastal, industrial or geo-thermal conditions.
We're confident you'll find a product in our range exactly right for your design and site.
For a quick overview about our products, click on a tab below:
AlumiGard

AlumiGard (previously AR8/ARX) is our premium metal roofing product, designed to withstand the harshest conditions

Aluminium doesn't rust. Suitable for use in 'Very severe' marine environments, right up to the waterline, or for acidic exposure in harsh industrial or geothermal areas. Under AlumiGard's durable baked-on paint systems is the same marine grade aluminium alloy boats are made from.

MagnaFlow

The magic of magnesium in MagnaFlow (previously ZM8/ZMX) uniquely adds extra anti-corrosive protection

Designed for 'Severe marine', up to 100m from the coastline, the superior corrosion resistance of MagnaFlow, makes it an ideal choice for demanding coastal environments. The magnesium in the aluminium/zinc/magnesium coating 'magically' helps zinc flow over cut edges, sealing them against exposure which will cause corrosion.

ZinaCore

ZinaCore (previously ZR8/ZRX) is the best value pre-painted aluminium and zinc coated steel roof for most sites

Suitable for moderate climatic conditions, ZinaCore has a hot-dipped aluminium/zinc alloy coating over a steel substrate. It has an acrylic or polyester top coat baked on a polyester primer, giving an extremely durable paint system that resists UV damage and provides excellent gloss and colour retention.
Choose the right roof for your location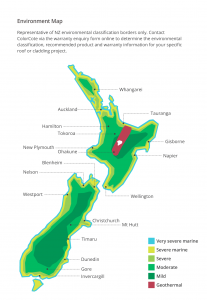 It is very important to choose the correct ColorCote pre-painted metal roofing or cladding system for the atmospheric environment. For example, installing a system designed for a 'Moderate' environment in a 'Very severe' marine environment will mean a shorter product life, more maintenance and no warranty.